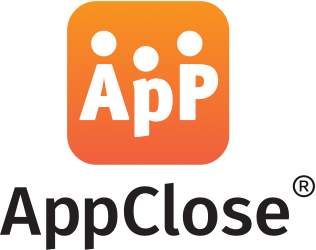 PRIVACY POLICY
Last Updated on May 1, 2019
PLEASE READ THE FOLLOWING PRIVACY POLICY CAREFULLY. BY REGISTERING OR USING APPCLOSE, YOU AGREE THAT WE MAY PROCESS YOUR DATA IN ACCORDANCE WITH THE FOLLOWING PRIVACY POLICY, THAT YOU AGREE TO BE BOUND BY OUR PRIVACY POLICY, AND THAT YOU WILL ABIDE BY OUR TERMS OF SERVICE.
AppClose, Inc. (the "Company") cares about your privacy. For this reason, we collect and use personal data only as it might be needed for us to deliver you our world-class AppClose products, services, websites, and mobile applications (collectively, our "Services"). This Privacy Policy applies to any AppClose site or application, regardless of how you access or use them, including through mobile devices.
Our Privacy Policy describes how and what data we collect, and how and why we may use your personal data. It also describes options that we provide for you to access, update, or otherwise take action with respect to your personal data that we may have.
If at any time you have questions about our practices or any of your rights described below, you may reach our Data Protection Officer ("DPO") by contacting us at  privacy@appclose.com.  This inbox is actively monitored and managed so that we can deliver an experience that you can confidently trust.
We may amend this Privacy Policy at any time by posting the amended version on this site including the effective date of the amended version. We will announce any material changes to this Privacy Policy via e-mail or by means of a notice on our home page at www.appclose.com. Your continued use of the Services will signify your acceptance of these changes.
California Residents
Under California Civil Code § 1798.83, California residents may request a notice identifying the categories of personal information that we share with certain third parties for direct marketing purposes under certain circumstances and providing contact information for such third parties. If you are a California resident and would like a copy of this notice, please submit a written request to us at the address provided below under the Section entitled "Contact Information."
Under California Civil Code Section 1789.3, California residents are entitled to the following specific consumer rights notice: If you have a question or complaint regarding our app or website, please send an email to privacy@appclose.com. You may also contact us by writing to us at the address provided below under the Section entitled "Contact Information." California residents may contact the Complaint Assistance Unit of the Division of Consumer Services of the California Department of Consumer Affairs in writing at 400 R Street, Suite 1080, Sacramento, California 95814, or by telephone at (916) 445-1254 or (800) 952-5210.
What is Personal Information?
Personal Information is information relating to an identified or identifiable natural person. An identifiable natural person is one who can be identified, directly or indirectly, by reference to an identifier such as a name, an identification number, location data, an online identifier, or to one or more factors specific to the physical, physiological, genetic, mental, economic, cultural or social identity of that natural person.
Your personal data includes information such as:
Name
Address
Telephone number
Date of birth
Email address
Other data collected that could directly or indirectly identify you
We do not consider personal information to include information that has been anonymized or aggregated so that it can no longer be used to identify a specific natural person, whether in combination with other information or otherwise.
We collect personal information from you and any devices (including mobile devices) you use when you: use our Services, register for an account with us, provide us information on a web form, update or add information to your account, or when you otherwise correspond with us.
Some of this personal information, such as a way to identify you, is necessary to enter into our Terms of Service.
Other Personal information you give us and that we collect and store when you use our Services or create an account with us include:
Password for registration for an App
Zip Code or area of residence
Your contacts that you choose to share with an App from your address book
Calendar events and photos that you upload
Financial information such as credit card or bank account numbers in connection with a transaction; provided that Company does not retain credit card or payment information, which is stored by trusted third party providers. Company does retain accounting information uploaded to your account for the purposes of keeping track of your debit/credit status between you and the other parent of your child or children; invoice status with a linked attorney, and the like.
Text messages within our App
Photos within our App
Information submitted when requesting technical support
Information submitted when participating in polls, surveys, and questionnaires
Your age, gender, interests and favorites to the extent you disclose such information when using the Services
Medical or personal health information that you may voluntarily upload or communicate through the App, including personal health information of your minor children
Additional information that we may be required or authorized by applicable national laws to collect and process in order to authenticate or identify you or to verify the information that we have collected
Any information you upload to your account via the App, where such personal information is required for use of any functionality
Not all information listed above will apply to all accounts, which may have limited functionality and stored history, as determined solely by Company from time to time.
Personal information that we collect automatically when you use our Services or register for an account with us
We collect information about your interaction with our Services and your communications with us. This is information we receive from devices (including mobile devices) you use when you access our Services. This information can include the following: Device ID or unique identifier, device type, and unique device token.
We may collect location information, including the precise location of your mobile device. Keep in mind that most mobile devices allow you at any time to control or disable the use of location services in your mobile device's settings menu.
Computer and connection information such as statistics on your page views, traffic to and from the sites, referral URL, your IP address, your browsing history, and your web log information.
Personal information we collect using cookies and similar technologies
We use some third party analytical software that use cookies and related technologies. For more information about our use of these technologies, and how to control them, see "Website Analytics" below.
Personal information collected from other sources
We may supplement the personal information we collect directly with information collected from third parties and add it to your account information. For example, we may collect and use demographic and other information that is publicly available in an applicable jurisdiction, additional contact information, credit check information, and information from credit bureaus, as allowed by applicable national, federal and State laws.
Social Media. We allow you to send invites through channels that you have enabled on your device, including social media sites. If you send an invite through a social media site, we do not obtain any personal information from that social media site as a result of your sending an invite through that site.
In some instances, you may create an account with us through a third party account with which you are already registered. Such account creation would include personal information required to establish an account with us. Through the privacy settings and permissions on the third party account, you would control the personal information that we could access on the third party account.
If you give us personal information about someone else who is other than your minor child(ren) or for whom you are the legal guardian, you must do so only with that person's authorization. You should inform them how we collect, use, disclose, and retain their personal information according to our privacy notice. Information could be involuntarily disclosed in a legal proceeding. See "Compliance with legal, regulatory, and law enforcement requests" below.
How we use your personal information
We strongly believe in minimizing the data we collect and limiting its use and purpose to only that (1) for which we have been given permission, (2) as necessary to deliver the Services you purchase or interact with, or (3) as we might be required or permitted for legal compliance or other lawful purposes. These uses include:
Delivering, improving, updating and enhancing the Services we provide. We collect various information relating to your purchase, use, and/or interactions with our Services. We use this information to:
Improve and optimize the operation and performance of our Services (including our websites and mobile applications)
Diagnose problems with and identify security risks, errors, or needed enhancements to the Services
Establish and verify the identity and eligibility of users
Detect and prevent fraud and abuse of our Services and systems
Collecting aggregate statistics about use of our Services
Understand and analyze how you use our Services and what products and services are most relevant to you.
Often, much of the data collected is aggregated or is statistical data about how individuals use our Services, and is not linked to any personal data. To the extent it is itself personal data, or is linked or linkable to personal data, we treat it accordingly. 
Sharing with trusted third parties. We may share your personal data with third parties with which we have partnered to allow you to integrate their services into our own Services, and with third party service providers as necessary for them to perform services on our behalf, such as:
Processing credit card or ACH payments
Conducting contests or surveys
Performing analysis of our Services and customer demographics
Communicating with you, such as by way of email or survey delivery
Customer relationship management
Other business operations
If you open an ipayou account, we will share certain of your personal information with Dwolla [also Plaid?] as required to set up your ipayou account, link your bank account, make transfers, maintain required records, and as otherwise required to comply with our agreement with Dwolla. Please see our Terms of Service for additional information.
We only share your personal data as necessary for any third party to provide the services as requested or as needed on our behalf. These third parties (and any subcontractors) are subject to strict data processing terms and conditions and are prohibited from using, sharing, or retaining your personal data for any purpose other than as they have been specifically contracted for (or without your consent).
Change of Ownership
If we are subject to a merger or acquisition with/by another company, we may share information with them in accordance with this Privacy Policy. Should such an event occur, we will require that the new combined or surviving entity follow this Policy or a substantially similar policy with respect to your personal information.
Communicating with you.  We may contact you directly or through a third party service provider regarding products or services for which you have signed up or purchased from us, including for transactional or service related communications.  We may also contact you with offers for additional services we think you may find valuable unless you opt out of receiving such communications. You don't need to provide consent as a condition to purchase our goods or services. These contacts may include:
If we collect information from you in connection with a co-branded offer, it will be clear at the point of collection who is collecting the information and whose privacy policy applies. In addition, it will describe your options with regard to the use and/or sharing of your personal data with a co-branded partner, as well as how to exercise those options.
If you make use of a service from us that allows you to import contacts, we will only use the contacts and any other personal information for the requested service. If you believe that anyone has provided us with your personal information and you would like to request that it be removed from our database, please contact us at  privacy@appclose.com.
Transfer of personal data abroad.  If you use our Services from a country other than the country where our servers are located, your communications with us may result in transferring your personal data across international borders. If you use our Services from a country other than the United States, you consent to such cross-border transfers of personal data to the United States and to other countries. Also, when you call us or initiate a chat, we may provide you with support from one of our global locations outside your country of origin. In these cases, your personal data is handled according to this Privacy Policy.
Compliance with legal, regulatory, and law enforcement requests. We cooperate with government and law enforcement officials and private parties to enforce and comply with the law. We will disclose any information about you to government or law enforcement officials or private parties as we, in our sole discretion, believe necessary or appropriate to respond to claims and legal process (such as subpoena requests), to protect our property and rights or the property and rights of a third party, to protect the safety of the public or any person, or to prevent or stop activity we consider to be illegal or unethical. Our Subpoena Policy describes how we respond when we receive a court order or subpoena that requests any of your records from us.
To the extent we receive, maintain, use, or disclose any of your or your child's personal health information (PHI) (e.g. medical records, appointment reminders, immunization records), we will take appropriate measures to maintain the privacy and security of such information. We will not disclose such PHI without your prior written consent unless: (i) it has been "de-identified" so that it cannot identify you; (ii) we have your prior written consent; (iii) disclosure is required by law, or (iv) as otherwise permitted under federal and state privacy laws and regulations.
To the extent we are legally permitted to do so, we will take reasonable steps to notify you in the event that we are required to provide your personal information to third parties as part of legal process.
Website analytics. We use multiple web analytics tools provided by service partners such as Google Analytics, MixPanel, Appsflyer, Domo, and Pixel to collect information about how you interact with our website or mobile applications, including what pages you visit, what site you visited prior to visiting our website, how much time you spend on each page, what operating system and web browser you use and network and IP information. We use the information provided by these tools to improve our Services. Some of these tools place persistent cookies in your browser to identify you as a unique user the next time you visit our website. Each cookie cannot be used by anyone other than the service provider (ex: Google for Google Analytics). The information collected from the cookie may be transmitted to and stored by these service partners on servers in a country other than the country in which you reside. Though information collected does not include personal data such as name, address, billing information, etc., the information collected is used and shared by these service providers in accordance with their individual privacy policies. You can manage your cookies and cookie preferences in your browser or device settings, or through third-party tools, such as  Disconnect, Ghostery, and others.
Advertisements. We do not allow third party advertising while you are using our Services.
Third-party websites.  Our mobile applications may contain links to third party websites and to attorney profiles that may include a link to that attorney's website. We are not responsible for the privacy practices or the content of third-party sites.  Please read the privacy policy of any website you visit. This Privacy Policy does not apply to websites or services maintained by third parties.
Your choices on how we use your personal information
You have choices about how we use your personal information to communicate with you, to send you marketing information, and how long you stay signed into your account.
Marketing
If you do not wish to receive marketing communications from us, you can unsubscribe via the link in an email you receive, indicate your communication preferences using the method described within the direct communication from us, or contact us as described in the Contact Us section below. Keep in mind, we do not sell, rent, or otherwise disclose your personal information to third parties for their marketing purposes without your consent.
Advertising
We do not allow third party advertising while you are using our Services.
Staying Signed in
When you sign in to your account on our Services, you stay signed in until you close the App. If you use a shared computer that uses Android OS, we encourage you to close the App when you have finished your activity. You or any other user of a shared Android computer that you signed in on will be able to view and access many parts of your account and take certain actions during this signed in period without any further authorization. The specific actions and account activities that you or any other user of this computer/browser may take include:
Send messages
Send invites
Send or request payments, if you have an ipayou account
Take other actions permitted to you as an accountholder
If you attempt to change your password, User ID, or attempt certain other account activity, you may be required to enter your password.
You can end a signed in session by closing the App.
Ways that you can access, control, and correct your personal information
We respect your right to access, correct, request deletion, or request restriction of our usage of your personal information as required by applicable law. We also take steps to ensure that the personal information we collect is accurate and up to date.
You have the right to know what personal information we maintain about you
We will provide you with a copy of your personal information in a structured, commonly used and machine readable format on request
If your personal information is incorrect or incomplete, you have the right to ask us to update or amend it
You have the right to object to our processing of your personal information
You can ask us to delete or restrict how we use your personal information, but this right is limited and may impact your access to some of our Services
Access, correction, and deletion of your personal information
You can see, review, and change most of your personal information by signing in to your account. Please update your personal information immediately if it changes or is inaccurate.
We will honor any statutory right you might have to access, modify, or erase your personal information. To request access and to find out whether any fees may apply, if permitted by applicable national laws, please contact us following the instructions in the Contact Us section below. Where you have a statutory right to request access or request the modification or erasure of your personal information, we can still withhold that access or decline to modify or erase your personal information in some cases in accordance with applicable national laws.
If you request that we stop processing some or all of your personal information or you withdraw (where applicable) your consent for our use or disclosure of your personal information for purposes set out in this Privacy Policy, we might not be able to provide you all of the Services and customer support offered to our users and authorized under this privacy policy and our Terms of Service.
Upon your request, we will close your account and remove your personal information from view as soon as reasonably possible, based on your account activity and in accordance with applicable national laws.
How long we keep your personal information
We retain your personal information for as long as necessary to provide the Services you have requested, or for other essential purposes such as complying with our legal obligations, resolving disputes, and enforcing our policies.
How long we retain personal information can vary significantly based on context of the Services we provide and on our legal obligations. The following factors typically influence retention periods:
How long is the personal information needed to provide our Services? This period includes such things as maintaining and improving the performance of our products, keeping our systems secure, and maintaining appropriate business and financial records. This general rule establishes the baseline for most of our data retention periods.
Is the personal information sensitive? If so, a shortened retention time is generally appropriate.
Have you provided consent for a longer retention period? If so, we will retain data in accordance with your consent.
Are we subject to a legal, contractual, or similar obligation to retain your personal information? Examples can include mandatory data retention laws in the applicable jurisdiction, government orders to preserve data relevant to an investigation, or personal information retained for the purposes of litigation.
After it is no longer necessary for us to retain your personal information, we will dispose of it in a secure manner according to our data retention and deletion policies.
How do we protect your personal information
We protect your personal information using technical and administrative security measures to reduce the risks of loss, misuse, unauthorized access, disclosure and alteration. Some of the safeguards we use are firewalls and data encryption, and information access authorization controls. Please be aware, however, that any email or other transmission that you send through the internet cannot be completely protected against unauthorized interception.
Data Controller and Data Protection Officer; Contact Information
If you reside in the United States, you are contracting with AppClose, Inc., and, if you use our ipayou payment services, also with Dwolla, Inc., for such payment services. 
If you have any questions, concerns, or complaints about our Privacy Policy, our practices, or our Services, you may contact us by either of the following means:
We will respond to all requests, inquiries, or concerns within thirty (30) days.