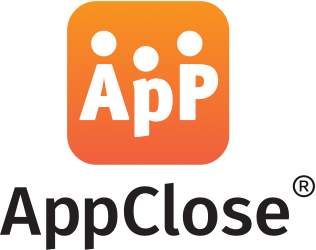 TERMS OF SERVICE AGREEMENT
EFFECTIVE DATE: MAY 1, 2019
This mobile and computer application, AppClose ("App") is the property of AppClose, Inc. (the "Company" or "AppClose"). By downloading and using this App, any of its features, functionality, or Company's software, you must agree to these Terms of Service. If you do not wish to be bound by these Terms of Service, do not download Company's App. These Terms of Service incorporate by reference any additional terms and conditions posted by Company through the App, or otherwise made available to you by Company.
Company provides access to its App and any related services subject to your compliance with the following Terms of Service. These Terms of Service constitute an agreement between you and the Company ("Agreement") that governs the relationship between you and the Company with respect to your use of this App provided by Company or downloaded from any source. It is important that you read these Terms of Service carefully and understand them.
BY USING THE APP, YOU AFFIRM THAT YOU ARE OF LEGAL AGE TO ENTER INTO THIS AGREEMENT.
THIS AGREEMENT CONTAINS A MANDATORY ARBITRATION PROVISION THAT REQUIRES THE USE OF ARBITRATION ON AN INDIVIDUAL BASIS TO RESOLVE DISPUTES, RATHER THAN JURY TRIALS OR ANY OTHER COURT PROCEEDINGS, OR CLASS ACTIONS OF ANY KIND. SEE SECTION 19 BELOW.
1. Description of Services
The App has various features and functionality that may include the ability to send SMS text messages and photographs, to share calendar events, financial information, personal information, and your child's or children's information with people known to you through the App's functionality. The Company may change, suspend, or discontinue your use of the App for any reason, at any time, including the availability or unavailability of any feature or functionality. The Company may also impose limits on certain features and services or restrict your access to parts, or all, of the App without notice or liability.
2. Account Activity/Retention of Your Information
Even if you delete or edit information on your mobile device, all information generated through the App will be retained during the length of time you have an active account, including but not limited to, posted messages, photos, requests, calendar entries, financial entries, whether received or sent within each six month period ("Account Activity") and for a period of time after termination of your account, as determined by the Company ("Retention Term"). If there is no Account Activity for six months or longer, you agree that Company has no obligation to contact you or advise you that your account has terminated or is scheduled to be terminated due to inactivity, and that in such event AppClose, without liability, has the right to terminate your account and permanently delete all records and data associated with your account. For the Retention Term, you unconditionally and irrevocably grant Company the authorization to retain any data or records created by you, including but not limited to, text messages, financial transactions, photos, calendar events, and all information created by you.
3. Disclosure of Your Information
Because AppClose archives all information generated by users (you and others), any information related to your account may be retrieved by you or your child's (or children's) other parent or legal guardian (or in some cases by another court appointed professional, such as a guardian ad litem), provided the person requesting the information has an active account at the time of the request or the account is within the Retention Term.
Like any company, AppClose is required by law to respond to subpoenas, which means any information generated within your account, including but not limited to, text messages, calendar events, and financial transactions will be disclosed in accordance with a court order. Confidential health information that you enter in the App (including through chat functions) may be subject to disclosure in connection with a subpoena or court order, as described in the AppClose policy relating to subpoenas and court orders. You agree to hold harmless, AppClose, for any information related to your account that AppClose shares pursuant to any subpoena or court order ("Compelled Disclosure"). Some investigations conducted by government agencies (for example a law enforcement agency), may require that the Company not inform you that such Compelled Disclosure is in process and you agree to hold AppClose harmless for complying with such order.
4. Trademark and Copyright Information
All App material, including, but not limited to, text, data, graphics, logos, button icons, images, audio and video content, Company links, digital downloads, data compilations, and software (collectively "App Material") is owned by, controlled by, licensed to, or used with permission by the Company and is protected by copyright, trademark, and other intellectual property rights. The App material is made available solely for your personal or commercial use and, except for being used within the App, may not be copied, reproduced, republished, modified, uploaded, posted, transmitted, or distributed in any way, including by e-mail or other electronic means, without the express prior written consent of the Company in each instance.
5. Limited License
Company grants you a limited, personal, non-exclusive, non-transferable, revocable right and license to download, install, and use the App and its underlying software rightfully obtained by you hereunder for personal or commercial use and for access to and use of the App's functionality. Such license is subject to these Terms of Service, and specifically conditioned upon the following: (i) you may not copy, distribute, share, modify, or otherwise make derivative uses of the App or its software or any portion thereof; (ii) you may not remove or modify any copyright, trademark, or other proprietary notices that have been placed in the App; (iii) you may not use any data mining, robots, or similar data gathering or extraction methods; and (iv) you may not use the App other than for its intended purpose. Except as may be granted in writing by Company to you, no App Material may be, without limitation, reproduced or stored in, or transmitted to, any other electronic storage device not expressly authorized by Company and no App Material appearing in the App may be disseminated in any form, either electronic or non-electronic, nor included in any retrieval system or service without the prior written permission of Company. Except as expressly permitted in this Agreement, any use of any portion of the App Material without the prior written permission of the Company is prohibited and will terminate the license granted herein. Nothing in these Terms of Service may be construed as conferring any intellectual property rights to you.
6. User Content
All materials of any kind generated via the App or online by you, or through any third party accessing your App, whether or not such third party is authorized by you, including without limitation, messaging text, photographs and images, financial information, health information, calendar events, and user data are considered individually and collectively "User Content". Company does not own or have any control over User Content, and is not responsible for any use or misuse (including any distribution) of User Content by any third party. By creating User Content of any nature, you agree that you retain all ownership rights in and to your User Content. You hereby grant Company a worldwide, irrevocable, perpetual, non-exclusive, royalty-free, license to your User Content for Company to store, transmit, display, and remove, all in accordance with this Agreement and Company's Privacy Policy, and otherwise distribute your User Content to the user(s) you have selected to receive such User Content.
7. Third Party Products.
The App may make available listings, descriptions, and images of goods or services, as well as references and links, to third party products or services ("Products"). Such Products may be made available for any purpose, including general information purposes. The availability through the App of any listing, description, or image of a Product does not imply our endorsement of such Product or affiliation with the provider of such Product. We make no representations as to the completeness, accuracy, reliability, validity or timeliness of such listings, descriptions or images (including any features, specifications and prices contained therein). Such information and the availability of any Product is subject to change at any time without notice. It is your responsibility to ascertain and obey all applicable local, state, federal and foreign laws (including minimum age requirements) regarding the possession, use and sale of any Product. We encourage users to sign up for ipayou, our payment platform that allows users to move money to the other parent's bank account. We have an agreement with Dwolla, Inc. ("Dwolla") to use the Dwolla payment platform to power ipayou, and to comply with applicable Dwolla requirements and rules. We do not endorse or assume any responsibility for any other Products.
Dwolla Transfer Service. In order to use the payment functionality of the App, you must open a "Access API" account provided by Dwolla, and you must accept the Dwolla Terms of Service and Privacy Policy. Any funds held in the Dwolla account are held by Dwolla's financial institution partners as set out in the Dwolla Terms of Service. You authorize Company to share your identity and account data with Dwolla for the purposes of opening and supporting your Dwolla account, and you are responsible for the accuracy and completeness of that data. You understand that you will access and manage your Dwolla account through the App, and Dwolla account notifications will be sent by Company, not Dwolla. Company will provide customer support for your Dwolla account activity, and can be reached at support@appclose.com, support.appclose.com, and/or 888-567-0727.
To fund or receive transfers through the App using Dwolla, you must link an existing bank or credit union account. By linking an account through Dwolla, you may use the App to transfer money to another party (typically your co-parent or attorney). Any personal information that you may be required to share with Dwolla is subject to the Dwolla Terms of Service and Privacy Policy. Any personal information that we collect through the App is subject our Privacy Policy. Registration and information required by Dwolla may include name, address, bank account information and similar information in accordance with applicable laws and ACH rules, or as otherwise required to be functional. As part of the App's functionality, Company will display and maintain records of the dollar amount of any financial transactions related to your account with Company, your transaction information (including recipient/bank account identifiers, date, status, and the like), along with any user notes or information entered for each particular transaction, if any.
Any fees associated with a transfer through the App will be disclosed concurrent with any transfer, and the user to whom the fee will be charged (the sender) will have an opportunity to either consent to the fee or not to make the transfer.
Transfers through the App are processed from the sender's linked account through the Dwolla network to the recipient's linked account. The time to complete a transfer will vary depending on the circumstances. Information about the time lapse between the sender's initiation of a transfer, and the actual receipt of the transfer by the recipient, can be found at support.appclose.com.
Any disputes that you may have related to any payment transfers through the Dwolla network must be addressed to Company and not to Dwolla. See Section 19 for the dispute resolution process between you and Company.
8. Registration
Company may require that you become a registered user in order to access or benefit from the App, including without limitation, the ability to access certain functionality. Registration requires that you provide the Company with accurate and complete registration information ("Registered Account"). Each Registered Account is for one (1) user only. You expressly agree that upon registration with AppClose, minimally you may be required to provide your first name, last name, smartphone number with a US area code, a valid email address, the country in which you reside, and your zip code if you reside in the United States. You may be further required to provide us with payment information, if applicable, and any other information that relates to the functionality of the App. The Company also has arrangements with certain third party vendors to which you may be required to provide personal information in order to use certain features of the App, such as the ability to transfer payments though the App. Our Privacy Policy describes how we share information with such third party providers.
You are responsible for all use of the App and for preventing unauthorized access or use of your password and any personal information you enter. If you believe there has been a breach of security such as the disclosure, theft, or unauthorized use of your Registered Account, you must notify us immediately by email at support@appclose.com. Please also read our Privacy Policy for further information.
9. Content by Email
We may send you communications via text messaging and/or email to keep you updated on App developments or your registration status. Your use of the content received through these email services will be subject to these Terms of Service. You can unsubscribe to our email service by notifying us or opting out, however, we may still send you email regarding non-marketing related issues such as your Registered Account or your use of the App.
10. Support
Company alone will maintain and support the App as it sees fit and Apple, Inc. has no obligation whatsoever to furnish any maintenance or support services with respect to the App. Please send all inquiries to support@appclose.com.
11. No Financial, Legal, or Other Advice.
The App may provide links to, or information about, legal counsel. The App also facilitates various payments. The App does not constitute or provide any financial, legal, accounting, or other advice, nor does it endorse any legal or other professional.
12. No Warranties.
You agree that your use of the App, including without limitation, any arrangements made between you and any other User of the App or through any Content OR USER CONTENT is at your sole risk and you acknowledge and agree that the App and anything contained therein, including, but not limited to, Content, USER CONTENT, software, software applications, third party software, ATTORNEY PROFILES AND CONTACT INFORMATION (the "Items") are provided "AS IS" and that Company makes no warranty of any kind, express or implied, as to the Items, including but not limited to, merchantability, or fitness for a particular purpose or use.
ALL DISCLAIMERS OF ANY KIND (INCLUDING IN THIS SECTION AND ELSEWHERE IN THIS AGREEMENT) ARE MADE FOR THE BENEFIT OF BOTH COMPANY AND ITS AFFILIATES AND THEIR RESPECTIVE STOCKHOLDERS, DIRECTORS, OFFICERS, EMPLOYEES, AFFILIATES, AGENTS, REPRESENTATIVES, LICENSORS, SUPPLIERS, AND SERVICE PROVIDERS (COLLECTIVELY, THE "AFFILIATED ENTITIES"), AND THEIR RESPECTIVE SUCCESSORS AND ASSIGNS.
While we try to maintain the timeliness, integrity, and security of the App, we do not guarantee that the App is or will remain updated, complete, correct or secure, or that access to the App will be uninterrupted. The App may include inaccuracies, errors, and materials that violate or conflict with this Agreement. Additionally, third parties may make unauthorized alterations to the App. If you become aware of any such alteration, contact us at support@appclose.com with a description of such alteration and its location on the App.
13. Limitation of Liability.
TO THE FULLEST EXTENT PERMITTED UNDER APPLICABLE LAW: (A) COMPANY WILL NOT BE LIABLE FOR ANY INDIRECT, INCIDENTAL, CONSEQUENTIAL, SPECIAL, EXEMPLARY OR PUNITIVE DAMAGES OF ANY KIND, UNDER ANY CONTRACT, TORT (INCLUDING NEGLIGENCE), STRICT LIABILITY OR OTHER THEORY, INCLUDING DAMAGES FOR LOSS OF PROFITS, USE OR DATA, LOSS OF OTHER INTANGIBLES, LOSS OF SECURITY OF SUBMISSIONS (INCLUDING UNAUTHORIZED INTERCEPTION BY THIRD PARTIES OF ANY SUBMISSIONS), EVEN IF ADVISED IN ADVANCE OF THE POSSIBILITY OF SUCH DAMAGES OR LOSSES; (B) WITHOUT LIMITING THE FOREGOING, COMPANY WILL NOT BE LIABLE FOR DAMAGES OF ANY KIND RESULTING FROM YOUR USE OF OR INABILITY TO USE THE APP OR FROM ANY PRODUCTS OR THIRD PARTY MATERIALS, INCLUDING FROM ANY VIRUS THAT MAY BE TRANSMITTED IN CONNECTION THEREWITH; (C) YOUR SOLE AND EXCLUSIVE REMEDY FOR DISSATISFACTION WITH THE APP OR ANY PRODUCTS OR THIRD PARTY MATERIALS IS TO STOP USING THE APP; AND (D) THE MAXIMUM AGGREGATE LIABILITY OF COMPANY FOR ALL DAMAGES, LOSSES AND CAUSES OF ACTION, WHETHER IN CONTRACT, TORT (INCLUDING NEGLIGENCE) OR OTHERWISE, SHALL BE THE GREATER OF (A) $10.00; OR (B) THE TOTAL AMOUNT YOU PAID TO COMPANY DURING THE PAST YEAR, IF ANY. THE EXISTENCE OF ONE OR MORE CLAIMS WILL NOT ENLARGE THIS LIMIT.
ALL LIMITATIONS OF LIABILITY OF ANY KIND (INCLUDING IN THIS SECTION AND ELSEWHERE IN THIS AGREEMENT) ARE MADE FOR THE BENEFIT OF BOTH COMPANY AND THE AFFILIATED ENTITIES, AND THEIR RESPECTIVE SUCCESSORS AND ASSIGNS.
BY ACCESSING THE APP, YOU UNDERSTAND THAT YOU MAY BE WAIVING RIGHTS WITH RESPECT TO CLAIMS THAT ARE AT THIS TIME UNKNOWN OR UNSUSPECTED, AND IN ACCORDANCE WITH SUCH WAIVER, YOU ACKNOWLEDGE THAT YOU HAVE READ AND UNDERSTAND, AND HEREBY EXPRESSLY WAIVE, THE BENEFITS OF SECTION 1542 OF THE CIVIL CODE OF CALIFORNIA, AND ANY SIMILAR LAW OF ANY STATE, WHICH PROVIDES AS FOLLOWS: "A GENERAL RELEASE DOES NOT EXTEND TO CLAIMS WHICH THE CREDITOR DOES NOT KNOW OR SUSPECT TO EXIST IN HIS OR HER FAVOR AT THE TIME OF EXECUTING THE RELEASE, WHICH IF KNOWN BY HIM OR HER MUST HAVE MATERIALLY AFFECTED HIS OR HER SETTLEMENT WITH THE DEBTOR."
14. Indemnity.
You agree to defend, indemnify, and hold harmless, Company and the Affiliated Entities from and against any claims, actions, demands, expenses, liabilities, costs, debts, and damages (including legal and professional fees) asserted by any third party arising from your use or attempted use of the App (including all User Content), any third party's unauthorized access to the App via your Registered Account, or your actual or alleged violation of any law, including without limitation, laws governing intellectual property or privacy rights, or your violation of the terms and conditions of this Agreement.
15. Rules of Conduct.
By generating User Content via the App, including without limitation, text messages, photographs, financial information, and calendar events, you expressly agree to:
15.1 not upload, post, submit, or otherwise distribute or facilitate distribution of any content including, without limitation, text, communications, software, photographs, images, sounds, data, or other information that:
15.1.1 contains profane or vulgar language;
15.1.2 contains libelous, defamatory, slanderous, or otherwise untruthful remarks about a person or company, or post or upload copyrighted material from any other source, or invade any person's privacy for which you may be held legally liable;
15.1.3 is insulting or argumentative without merit, unlawful, threatening, abusive, harassing, defamatory, libelous, deceptive, or fraudulent;
15.1.4 contains explicit or graphic words, descriptions, or accounts of sexual acts;
15.1.5 uses vulgar language in the creation of a user name or otherwise violates the App rules or policies or these Rules of Conduct;
15.1.6 harasses, degrades, or intimidates an individual or group of individuals;
15.1.7 infringes any patent, trademark, trade secret, copyright, right of publicity, or any proprietary right of any party;
15.1.8 is related to illegal substances, products, or activities, including but not limited to drugs, prostitution, illegal firearms, or weapons;
15.1.9 breaches the terms or conditions of any court order or confidentiality or non-disclosure agreement to which you may be subject;
15.1.10 constitutes unauthorized or unsolicited advertising, including junk, bulk, spam or spam e-mail, any other form of unauthorized solicitation, or any form of lottery or gambling;
15.1.11 contains software viruses or any other computer code, files, or programs that are designed or intended to disrupt, damage, or limit the functionality of any software, hardware, or telecommunications equipment or to damage or obtain unauthorized access to any data or other information of Company, its users, or any third party;
15.1.12 attempts to, or is intended to, in any way unfairly, falsely, or fraudulently influence, modify, manipulate, or alter data or information, as determined solely by Company;
15.1.13 impersonates any person or entity, including any employee or representative of Company or Company's services.
15.2 Company reserves the right to delete your User Content, or any portion thereof, or revoke your access to the App or its functionality for any violation of these Terms of Service. We will usually only do so if we become aware of something you post that is, in our good-faith opinion, related to any violation of the above restrictions specified in this Section 14 or Terms of Service, however, because your information is encrypted and Company will only decrypt the information as required to respond to a subpoena or court order. Company has no obligation to monitor or remove User Content.
15.3 Collection of information about the users of this App through any means whatsoever or using such information for the purpose of soliciting business of any kind or transmitting or facilitating transmission of unsolicited bulk electronic communications is strictly prohibited.
15.4 Other than as specified hereunder, Company does not accept any ideas, text, or content considered to be proprietary. Consequently, you expressly agree that, except for User Content, any material you submit to the Company in any format whatsoever, will be deemed an unrestricted, irrevocable, and perpetual grant of a payment-free and royalty-free, non-exclusive right and license to use, reproduce, modify, display, transmit, adapt, publish, translate, create derivative works from and distribute these materials throughout the universe in any medium and through any methods of distribution, transmission, and display whether now known or hereafter devised, or refrain therefrom in Company's sole discretion. Additionally, you represent and warrant that you hereby irrevocably waive any moral rights in regard to any material or User Content you submit to the App and you also agree that Company is free to use, for any purpose, any ideas, concepts, know-how, or techniques that you send it, whether intended for Company or not, without obligation to you of any kind whatsoever.
15.5 Using the App generally involves accessing user-posted messages and content, however, Company does not review postings, nor does Company confirm the accuracy or validity of any User Content posted. Company may, but does not have the obligation to actively monitor the contents of the postings generated by any user or third party, nor is Company responsible for any content not directly created or generated by Company. We do not endorse, nor do we warrant the validity, accuracy, completeness, or usefulness of any content or User Content displayed or posted. User Content does not represent the views of the Company, its subsidiaries, or any person or property associated with the Company or the App. If you feel that any posting is objectionable, we encourage you to contact us by email at support@appclose.com. We will make every effort to remove objectionable content if we deem removal to be warranted, however we do not have an obligation to do so. Removal or editing of any Content is a manual process and might not occur immediately or at all. Except as otherwise written in this Agreement, Company reserves the right to remove, or not remove, any content, including without limitation, User Content, for any (or no) reason whatsoever. You remain solely responsible for your User Content, and you agree to indemnify and hold harmless, Company and its agents, with respect to any claim based upon the transmission or attempted transmission or display of such. Company reserves the right to suspend or ban users posting what the Company deems inappropriate content at any time without notice, however, Company is not responsible for any failure or delay in removing or editing such content.
16. Subscription Fees
If in the future, Company may elect to create a paid version of the App or offer specific features that must be activated by your payment or subscription, as the case may be. In such event, you agree that Company may reasonably contact you with a reminder that your subscription will soon be coming due. Due to Company's cost of data storage allocation, account setup, and administration, you agree that all fees paid in advance are non-returnable and will not be refunded or pro-rated for refund, unless your account is terminated by Company. If you cancel service or do not renew a subscription, you will still be able to access your account and/or features for the subscription time remaining on your paid account.
17. Contacts
You hereby grant Company access to contacts that reside in your mobile device in order to make the App functional. You may specify which contacts you will allow and which contacts you do not want to share with Company, and may change such Company access to those contacts at any time. You agree that Company assumes no responsibility for any consequence for including or deleting any contact from your list that Company may access. If you choose to not allow the App to access your contacts, the App's functionality will be severely limited or will not provide any of the functions it was designed to provide. Please refer to our Privacy Policy, which limits how we may use such information.
18. Changes to Terms of Service
We may change this Agreement from time to time by notifying you of such changes by any reasonable means, including by posting a revised Agreement on the App or on Company's website located at www.appclose.com ("Website"). Any such changes will not apply to any dispute between you and us arising prior to the date on which we posted the revised Agreement incorporating such changes, or otherwise notified you of such changes.
Your use of the App following any changes to this Agreement will constitute your acceptance of such changes. The "Last Updated" legend above indicates when this Agreement was last changed. We may, at any time and without liability, modify or discontinue all or part of the App (including access to the App via any third-party links); charge, modify or waive any fees required to use the App; or offer opportunities to some or all App users.
19. No Waiver
No failure or delay in exercising any right or remedy, or in requiring the satisfaction of any condition under this Agreement, and no act, omission or course of dealing or course of performance by Company, operates as a waiver or estoppel of any right, remedy or condition, nor shall the waiver by Company of a breach of any provision hereof be taken or held to be a waiver of the provision itself.
20. Governing Law; Arbitration.
We hope we never get into any disputes with you but just in case, here are some things that would apply:
(a) GOVERNING LAW. THESE TERMS OF SERIVCE AND THE INTERPRETATION OF THESE TERMS OF SERVICE WILL BE GOVERNED BY AND CONSTRUED IN ACCORDANCE WITH THE LAWS OF THE STATE OF TEXAS, WITHOUT REGARD TO ITS CONFLICTS OF LAWS PRINCIPLES AND SPECIFICALLY WILL NOT BE GOVERNED BY THE UNITED NATIONS CONVENTIONS ON CONTRACTS FOR THE INTERNATIONAL SALE OF GOODS, IF OTHERWISE APPLICABLE.
(b) ARBITRATION OF DISPUTES. YOU UNDERSTAND AND AGREE THAT EXCEPT FOR DISPUTES THAT QUALIFY FOR SMALL CLAIMS COURT, ALL CLAIMS, DISAGREEMENTS, DISPUTES OR CONTROVERSIES BETWEEN YOU AND THE COMPANY, AND ITS OFFICERS, DIRECTORS, MEMBERS, EMPLOYEES, REPRESENTATIVES, AGENTS, PARENTS, AFFILIATES, SUBSIDIARIES AND/OR RELATED COMPANIES ARISING OUT OF OR RELATING TO THE APP, THE USE OR ACCESS THEREOF, OR THESE TERMS OF SERVICE SHALL BE RESOLVED BY FINAL AND BINDING ARBITRATION, WHICH MUST BE COMMENCED WITHIN ONE (1) YEAR AFTER SUCH CLAIM OR CAUSE OF ACTION ARISES.  BECAUSE THE APP PROVIDED TO YOU BY US CONCERNS INTERSTATE COMMERCE, THE FEDERAL ARBITRATION ACT ("FAA") GOVERNS THE ARBITRABILITY OF ALL DISPUTES.  HOWEVER, APPLICABLE FEDERAL OR STATE LAW MAY ALSO APPLY TO THE SUBSTANCE OF ANY DISPUTES. NOTWITHSTANDING THE FOREGOING, each party retains the right to seek injunctive or other equitable relief in a court of competent jurisdiction to prevent the actual or threatened infringement, misappropriation or violation of a party's copyrights, trademarks, trade secrets, patents or other intellectual property rights.
(c) ARBITRATION RULES. The arbitration will be administered by the American Arbitration Association ("AAA") in accordance with the Commercial Arbitration Rules and the Supplementary Procedures for Consumer Related Disputes (the "AAA Rules") then in effect, except as modified by this "Dispute Resolution" section. (The AAA Rules are available at www.adr.org/arb_med or by calling the AAA at 1-800-778-7879.) The Federal Arbitration Act will govern the interpretation and enforcement of this Section.
(d) ARBITRATION PROCESS. A party who desires to initiate arbitration must provide the other party with a written Demand for Arbitration as specified in the AAA Rules. (The AAA provides a form for consumer Demand for Arbitration at www.adr.org). The arbitrator will be either a retired judge or an attorney licensed to practice law in the state of Texas and will be selected by the parties from the AAA's roster of consumer dispute arbitrators. If the parties are unable to agree upon an arbitrator within seven (7) days of delivery of the Demand for Arbitration, then the AAA will appoint the arbitrator in accordance with the AAA Rules.
(e) ARBITRATION LOCATION AND PROCEDURE. The arbitrator will conduct hearings, if any, by teleconference or videoconference, rather than by personal appearances, unless the arbitrator determines upon request by you or by us that an in-person hearing is appropriate. Any in-person appearances will be held at a location that is reasonably convenient to both parties with due consideration of their ability to travel and other pertinent circumstances. If the parties are unable to agree on a location, such determination should be made by the AAA or by the arbitrator. Unless you and the Company otherwise agree, the arbitration will be conducted in the county where you reside. If your claim does not exceed $10,000, then the arbitration will be conducted solely on the basis of documents you and the Company submit to the arbitrator, unless you request a hearing or the arbitrator determines that a hearing is necessary. If your claim exceeds $10,000, your right to a hearing will be determined by the AAA Rules. Subject to the AAA Rules, the arbitrator will have the discretion to direct a reasonable exchange of information by the parties, consistent with the expedited nature of the arbitration.
(f) ARBITRATOR'S DECISION. The arbitrator will render an award within the time frame specified in the AAA Rules. The arbitrator's decision will include the essential findings and conclusions upon which the arbitrator based the award. Judgment on the arbitration award may be entered in any court having jurisdiction thereof. The arbitrator's award damages must be consistent with the terms of the "Limitation of Liability" section above as to the types and the amounts of damages for which a party may be held liable. The arbitrator may award declaratory or injunctive relief only in favor of the claimant and only to the extent necessary to provide relief warranted by the claimant's individual claim. If you prevail in arbitration you will be entitled to an award of attorneys' fees and expenses, to the extent provided under applicable law.
(g) FEES. Your responsibility to pay any AAA filing, administrative and arbitrator fees will be solely as set forth in the AAA Rules.
(h) CHANGES. Notwithstanding the provisions of the modification-related provisions above, if we change this "Dispute Resolution" section after the date you first accepted these Terms of Service (or accepted any subsequent changes to these Terms of Service), you may reject any such change by providing us written notice of such rejection by mail or hand delivery to: AppClose, Inc., Attn: Dispute Resolutions, 600 Congress Avenue, 14th Floor, Austin, Texas 78701 or by email from the email address associated with your Account to: support@appclose.com, within 30 days of the date such change became effective, as indicated in the "Last update" date above. In order to be effective, the notice must include your full name and clearly indicate your intent to reject changes to this "Dispute Resolution" section. By rejecting changes, you are agreeing that you will arbitrate any Dispute between you and the Company in accordance with the provisions of this "Dispute Resolution" section as of the date you first accepted these Terms of Service (or accepted any subsequent changes to these Terms of Service).
(i) NO CLASS ACTIONS. NEITHER YOU NOR WE SHALL BE ENTITLED TO JOIN OR CONSOLIDATE CLAIMS IN ARBITRATION BY OR AGAINST OTHER USERS/CONSUMERS OR ARBITRATE ANY CLAIM AS A REPRESENTATIVE OR MEMBER OF A CLASS OR IN A PRIVATE ATTORNEY GENERAL CAPACITY.
21. General Provisions
You may not assign, sub-license, or otherwise transfer any of your rights under this Agreement. Except as provided hereunder, there are no third party beneficiaries to this Agreement. If any provision of this Agreement is found to be invalid by a court having competent jurisdiction, the invalidity of that provision will not affect the validity of the remaining provisions of this Agreement, which shall remain in full force and effect. Failure by Company to exercise any right or remedy under this Agreement does not constitute a waiver of that right or remedy. Headings in this Agreement are for convenience only and will have no legal meaning or effect. Apple, Inc. ("Apple") and its subsidiaries are third party beneficiaries of this license agreement and upon your acceptance of the Terms of Service hereof, Apple will have the right (and be deemed to have accepted the right) as a third party beneficiary thereof, to enforce this Agreement against you. You represent and warrant that you are not located in a country that is subject to a US Government embargo or that has been designated by the US government as a "terrorist supporting country" and that you are not listed on any US government list of prohibited or restricted parties. Company, not Apple, will be responsible for the investigation, defense, settlement, and discharge of any intellectual property infringement claim.
22. Entire Agreement
Company reserves all rights hereunder. These Terms of Service constitute the entire Agreement between you and Company with respect to the subject matter hereof and exclude any representations or warranties previously given or made.
If you agree to abide by this Terms of Service, click I AGREE. If you decline you will be unable to access the App.